GoPro owners have always been waiting for this kind of accessory. The manufacturer has unveiled with the Volta a kind of all-in-one that perfectly complements the camera.
The Volta is sort of the definitive all-in-one accessory for GoPro cameras! Unveiled this week by the manufacturer, it is a handle on which the camera can be connected. It incorporates buttons to control the GoPro, whether it is placed on the accessory or remotely, since it is also a Bluetooth remote control which controls the older Max and Hero models up to 30 meters away.
A handle to do everything
The role of the Volta is also to recharge the GoPro, since it incorporates a battery (with a capacity of 4,900 mAh) which plugs into USB-C on the camera. Enough to quadruple the autonomy of the GoPro according to the manufacturer, for a total of four hours of recording in 5.4K. A second USB-C port is also present on the handle to refuel the Volta's battery.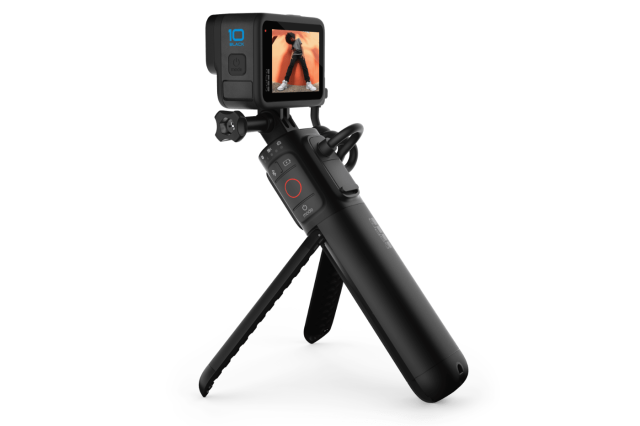 Finally, the Volta deploys two feet that transform the accessory into a tripod. The handle incorporates LEDs that indicate the battery status as well as the recording mode (video, photo, timelapse mode). To the GoPro attachment system is added a second on the side, to mount the Volta to other accessories such as a bike mount or a backpack.
Given the versatility of the accessory and the on-board electronics, GoPro specifies that the Volta is not suitable for the seabed. On the other hand, the handle is resistant to water, in other words to splashing water. Similarly, when the GoPro is plugged into it with the USB-C charging cable connected, the camera is no longer waterproof.
The Volta combines several accessories often widely used by GoPro owners, which justifies its ultimately affordable price of €129.99. GoPro subscribers (49.99 per year) can get a discount of a few tens of euros on a copy.