After its Y72, Vivo returns with the Y76, its thinnest 5G smartphone in the Y range. Are there any other advantages without its sleeve? Answer in this test of the Vivo Y76 5G.
Some time ago, we were testing the Vivo Y72 smartphone for you, a nice entry into the mid-range that had convinced us on several points, and left us wanting in certain areas. Today, Vivo does not look defeated, and offers us a brand new entry: the Vivo Y76 5G.
Beyond its state-of-the-art connectivity, the Vivo Y76 wants above all to seduce the mid-range audience with a versatile smartphone, and with exceptional photographic capabilities for its price. It also prides itself on being the thinnest 5G smartphone in the Y range, an important element when looking for delicacy in design, but also unparalleled lightness. Was that enough to blow us away? Answer in this test of the Vivo Y76 5G.
I take advantage of Amazon's offer for the Vivo Y76 5G
Technical sheet
Before going into the details of the test, here is a short summary of the technical data sheet of the Vivo Y76 5G, which will allow you to see at a glance the different strengths of the smartphone.
Vivo Y76 5G
Screen
– 6.58 inch LCD screen
– Full HD+ definition (1080×2400)
– 120Hz
– 20:9 aspect ratio
– 460 NITS
– 96% NTSC
SoCs
– Mediatek Dimension 700
Memory
– 8GB RAM
– 128GB of storage
– MicroSD memory port
Colors
– Midnight Space
-Cosmic Aurora
– Plastic back and surround
Camera
– 50 Megapixel F/1.8 sensor
– 2 Megapixel F/2.4 Bokeh sensor
– 2 Megapixel F/2.4 Macro Sensor
– 16 Megapixel F/2.0 front sensor
Audio
– Stereo speakers
– 3.5mm jack
Battery
– 4100mAh battery
– 44W Turbo Charging
Connectivities
– Physical fingerprint reader on the side
-Bluetooth 5.1
– Wi-Fi 5
– 5G
– Dual nano SIM
-GPS
-NFC
– USB Type-C port
– Gyroscope
– Accelerometer
– Proximity and light sensor
Software
-Android 11
– Funtouch OS 12
Height and weight
– 163.84 x 75.00 x 7.79mm
– 175 grams
Starting price
– 349€
Availability date
– April 2022
Design, screen and ergonomics
The Vivo Y76 5G sports a design that could be described as daring, without going so far as the extraordinary. In its Cosmic Aurora shade, which we had for the test, the smartphone is adorned with a slightly holographic blue color, chrome on the edges and satin on the back. The finishes are clean and everything is overall very successful, and for people who prefer more sober looks, the Vivo Y76 is also available in Midnight Space (black).
Despite the fact that it is mainly made of plastic, it remains very pleasant to hold and seems to be of good quality. Note, however, that the back has an advantage and a disadvantage: it leaves no fingerprints but is very slippery. The most awkward will be pleased to note that the brand provides with its smartphone a protective film (to affix oneself) as well as a transparent flexible shell.
Moreover, its size and format are quite classic, Vivo takes no risks and prefers to bet on a master design, a safe bet. Only the photo block stands out a little since it is raised on about two millimeters, which prevents it from lying completely flat on a table. Besides that, the general configuration of the smartphone is standard, there is a USB-C port at the bottom, the SIM port at the top, as well as the lock and volume control buttons on the right. There are also two microphones (top to bottom) and a single speaker.
Finally, Vivo has chosen to keep a 3.5 mm jack port on its Y76, which is no longer relevant with many of its competitors. According to, this is a good point since not everyone has yet made the transition to wireless headphones, especially in the mid-range.
As for the screen, we were surprised to see that Vivo chose to use an LCD panel, rather than an OLED or AMOLED panel like the vast majority of its competitors, just like the brand. had done with his Vivo Y72 before him. It must be said that it is a decision that we regret since it leaves us with dull colors and a screen that is not very bright, even indoors. However, it will not interfere with your daily use.
Performance, Software and Autonomy
Now let's move on to the performance of the smartphone, which once again is not necessarily exceptional but remains in line with what the brand can offer for the mid-range. Inside, we find a Mediatek Dimensity 700 chip, again like the Y72, as well as a 4100mAh battery. When you don't use it, it can last you several days in a row. With daily use, however, we stay around 2 days, which is very satisfactory. The good news too is its 44W AC adapter that comes in the box, which fully charges the phone in up to an hour and a half.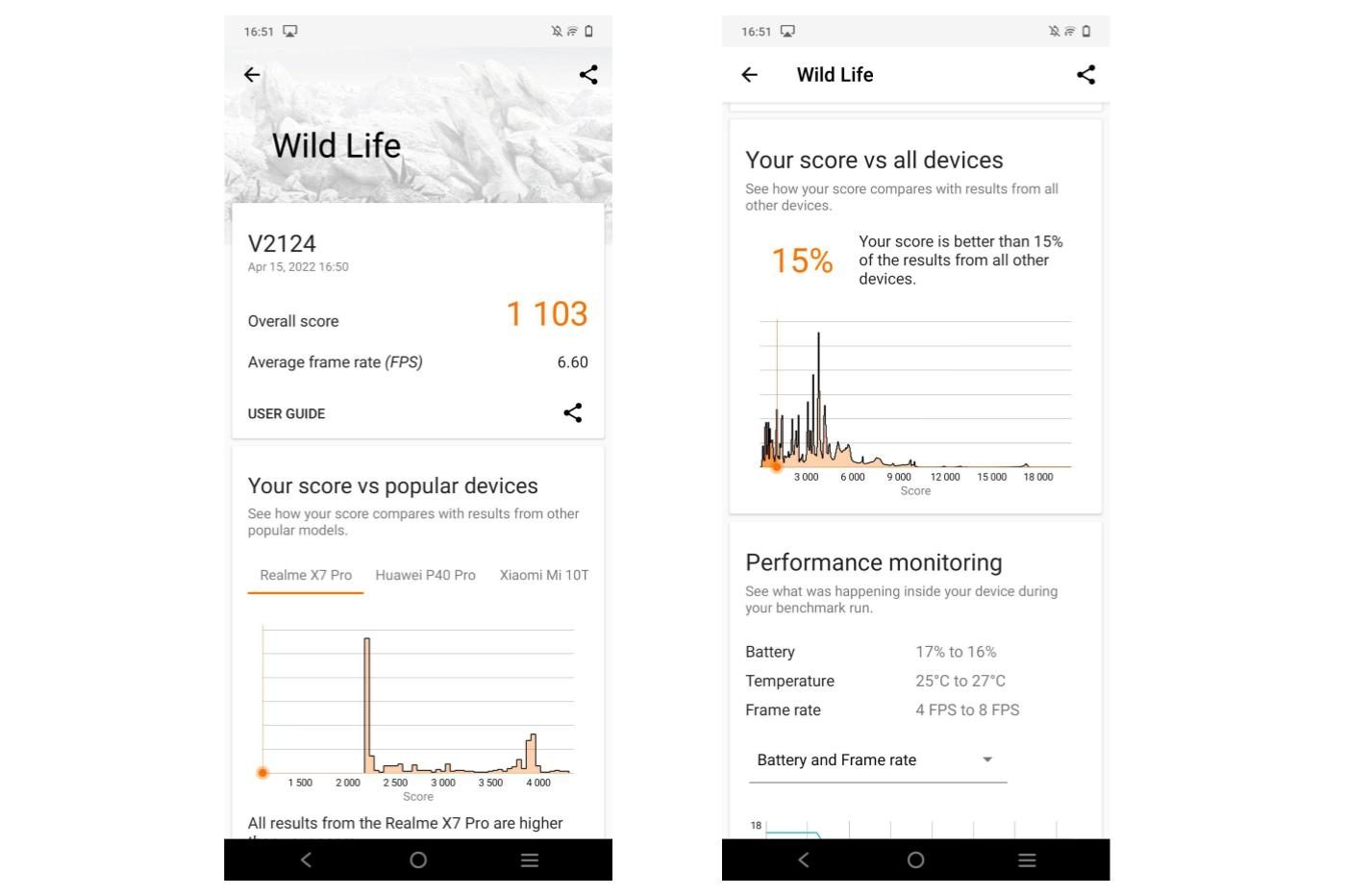 Unsurprisingly, the benchmark to which we submitted the Vivo Y76 for this test was not really conclusive, but on a day-to-day basis, it has no trouble performing the tasks asked of it, but is also not optimal for demanding actions such as certain games, which tend to heat up the phone slightly. Nothing dramatic, it's rather usual on all smartphones.
On the software side, the Vivo Y76 comes with the Android 11 operating system, as well as version 12 of Fun Touch OS. By default the general look of the applications is perhaps slightly too small and the home screen therefore quickly tends to be heavy. In addition, we regret the presence of certain natively installed applications, which we must remove manually during the first start. Nothing that cannot be corrected, therefore, even if we would have done well without it.
Photo and Video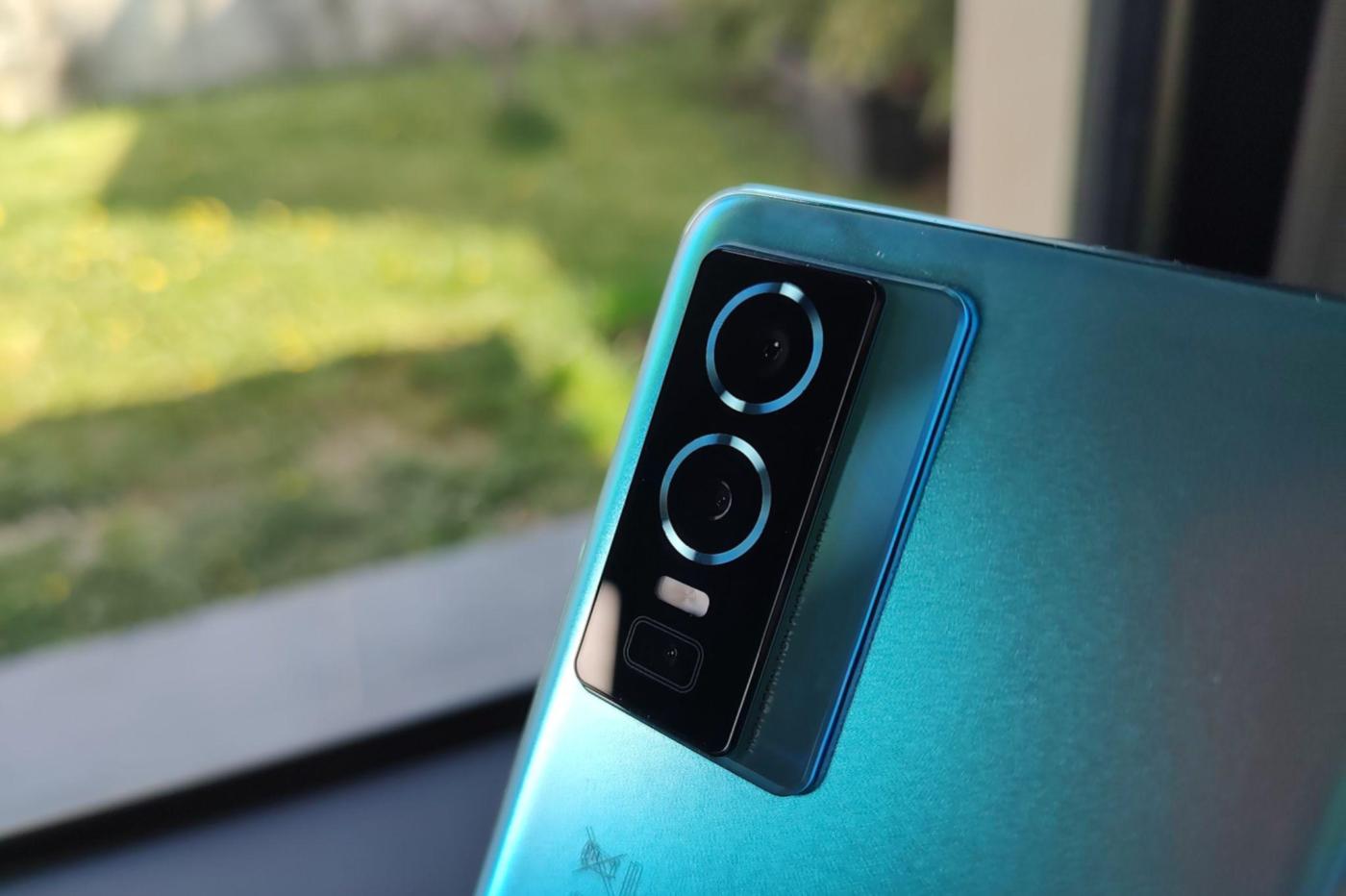 The photo part is an aspect on which Vivo relies a large part of its sales pitch. At the back of the smartphone there is a triple photo module consisting of a main sensor of 50 Megapixels and an aperture of f / 1.8, a Bokeh sensor 2 Megapixels f / 2.4 and a Macro sensor 2 Megapixels f /2.4. As always, the latter is quite anecdotal, so we used it very little.
As for the other two, they don't really live up to what Vivo promises us. In general, the details are not as sharp as we imagined and the Y76 struggles to bring out the impressions of depth, despite the bokeh sensor. We therefore have an image that is often very static, but which has really beautiful colors and good contrast. Nevertheless, it is a device that is more than enough to take some shots of everyday life, especially when the weather is right for the game.
In low light, the device tends to cling to all the light it can, even if it means creating a slight digital noise, noticeable but not excessively annoying. While this can sometimes be a good point, it is also prone to altering colors, making them move towards a warmer spectrum. At the front is a 16-megapixel front sensor anchored in a teardrop notch. The selfies are of fairly average quality, and, once again, the sharpness is not always there depending on the light.
Price and availability
The Vivo Y76 5G is already available on the Amazon site at a price of €336.19, compared to €349 for the recommended retail price.
I take advantage of Amazon's offer for the Vivo Y76 5G