Offered at less than €500 and equipped with almost everything you expect from a smartphone, the Samsung Galaxy A53 5G has almost everything going for it.
A full year after its A52, Samsung is returning to the mid-range market with the Galaxy A53. Far from the very premium Galaxy S, the A range has established itself for several years now as a real benchmark for value for money. This year, Samsung is betting everything on 5G, with a complete and versatile smartphone, which already promises to become one of its bestsellers in 2022.
Galaxy A53 5G 6+128 GB at the best price
Base price: €459
See more offers
Samsung, champion of AMOLED
If there is one point on which Samsung does not make concessions, it is its screen. Even on a range sold at half the price of the Galaxy S, the Korean brand is betting everything on a slab of 6.5-inch Super AMOLED Infinity-O in Full HD+and a refresh rate of 120 Hz. If these technical specifications do not speak to you, just know that they have nothing to envy to certain premium models: the screen of the Samsung Galaxy A53 is beautiful, bright, and unfailing fluidity.
The A53 immediately stands out as a very good option for those who regularly watch films and series on their smartphone. With its excellent refresh rate, video games and browsing – on social networks in particular – the smartphone screen allows a perfect display, in all circumstances.
For the rest of its design, the Galaxy A53 presents itself as a pretty model, without taking much risk and in line with the shift made by Samsung since the S20. Obviously, the range borrows from the Galaxy S without however equaling it: instead of a unibody aluminum back, we will be satisfied with a matte plastic shell surrounded by a metal border. Apart from its annoying tendency to catch fingerprints, the design is a success, Samsung no longer having much to prove in terms of the finishes of its devices.
Autonomous, even without charger
As with the S range, the Galaxy A53 is delivered without a charging unit, and now without headphones, the brand complying with the latest European regulations. If this change does not affect its price in any way, it is above all for ecological reasons that Samsung is switching to minimalism. For the consumer, this mainly translates into a thinner box. Compatible with charged "quick" up to 25W, the device will have no trouble finding a charger among those lying around in your drawers. Let's be honest, in 2022 we expected a little better at this level. It will indeed take an hour and a half for the phone to display 100% battery, which is still about adequate, but not optimal. We also regret the absence of wireless charging and powershare (reverse charging), still reserved for the brand's high-end models. At nearly €500, the A53 struggles to justify this failure, which is a shame.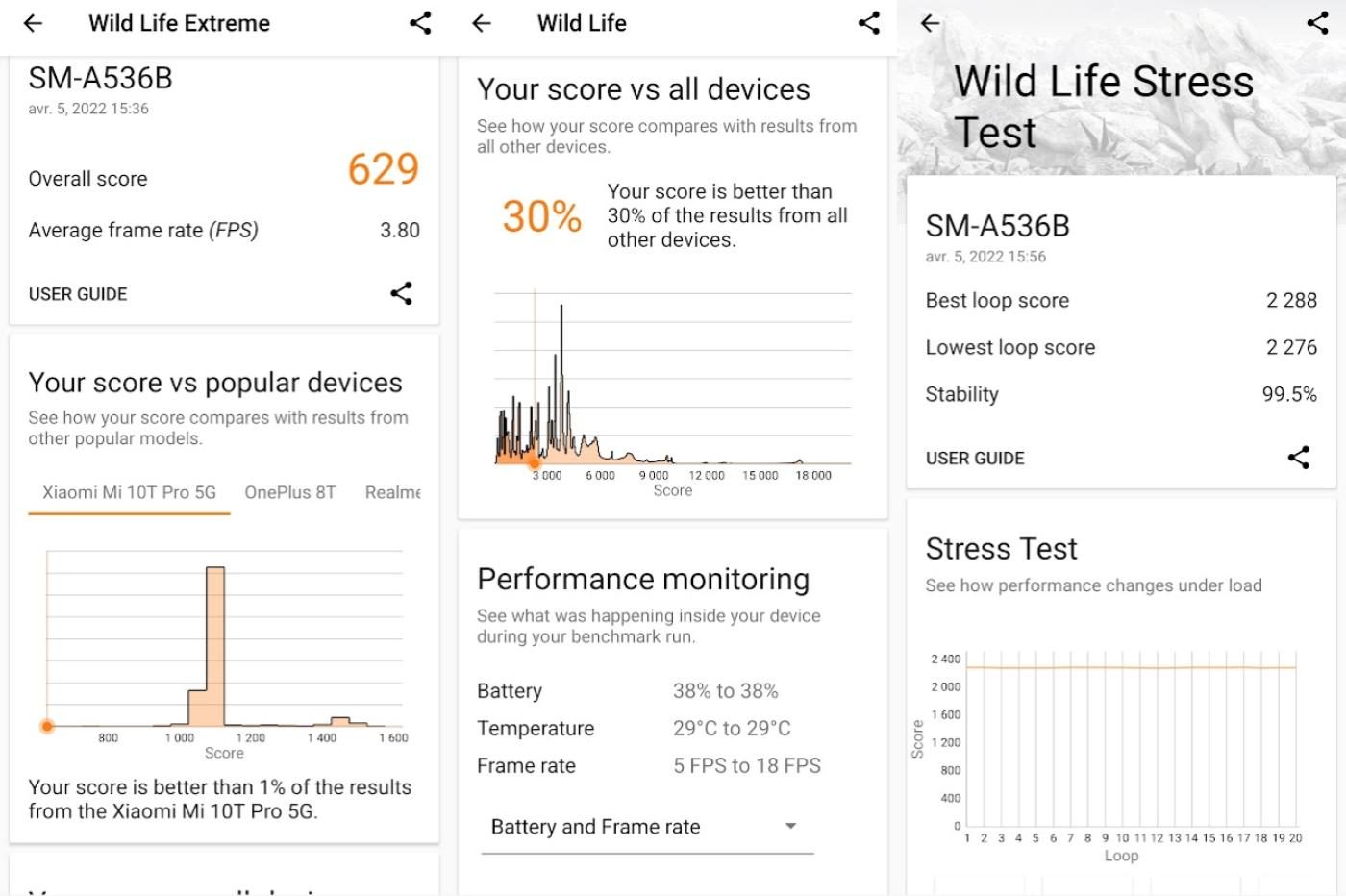 Despite this small disappointment, there is one point on which the mid-range smartphone stands out, it is its autonomy. Samsung is rarely among the good students in this area, but we must admit that the A53 is the exception that proves the rule. With its 5000 mAh battery and its Exynos 1280 chipthe device largely holds a day without fail. For the less greedy users, it can even last up to two days before going through the recharge box.
Powerful… and 5G compatible
If the Samsung Galaxy A53 does not logically benefit from the most powerful chips on the market, its Exynos 1280 processor engraved in 5 nm gives it a excellent stability, and more than satisfactory performance. Able to meet all the needs of everyday life, the smartphone manages to run a 3D game without any problem, with more intensive use of the battery. Regulars of the Korean brand know it, the Game Booster mode, although dispensable, also makes it possible to optimize the performance of the smartphone, by cutting off notifications to focus on temperature and in-game fluidity.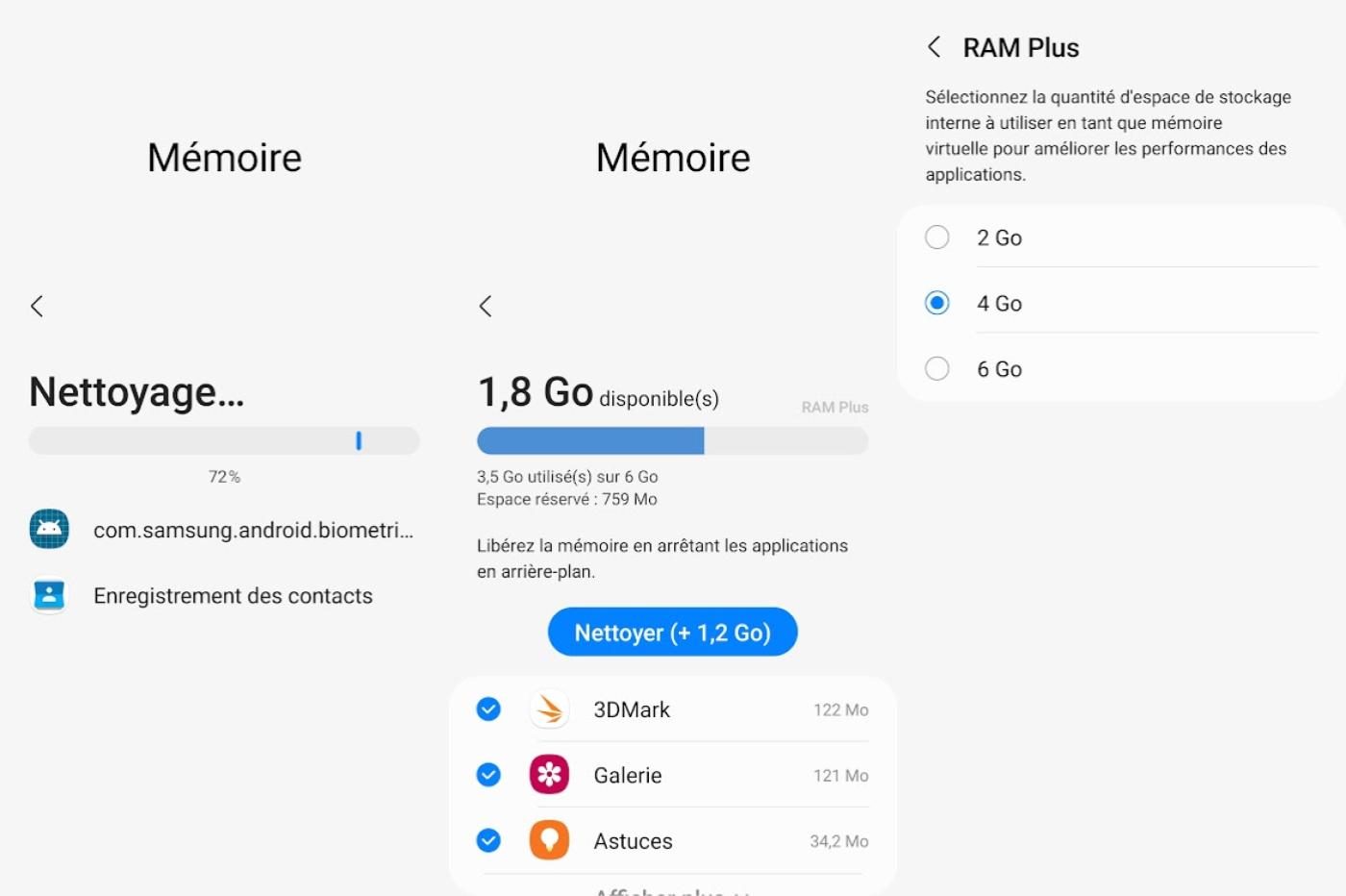 Also a small novelty: for the first time in its history, Samsung is offering shared memory on a Galaxy device, which consists of allocating part of the system memory (6 to 8 GB as needed) to "transform" it into RAM. The idea is interesting, especially since in use, this translates into a real performance boost, perfect for the most demanding users.
In terms of performance, Samsung is definitely abandoning 4G to focus on 5G. A logical development, but which should be welcomed on a mid-range smartphone like the A53. Unsurprisingly, this choice brings with it a substantial increase in its entry price (€459 compared to €379 for the A52 4G last year). The game is still worth the candle, for a phone that should – we hope – serve us for a few years.
Photo, a marked improvement
Samsung has long proven its talents in premium photography, it now also imposes itself on more affordable models. In recent years, the Galaxy A range has not had much to prove at this level, and offers a very satisfactory experience in terms of shooting. Without revolutionizing the genre, the A53 thus offers four sensors at the rear, as well as a single selfie module at the front.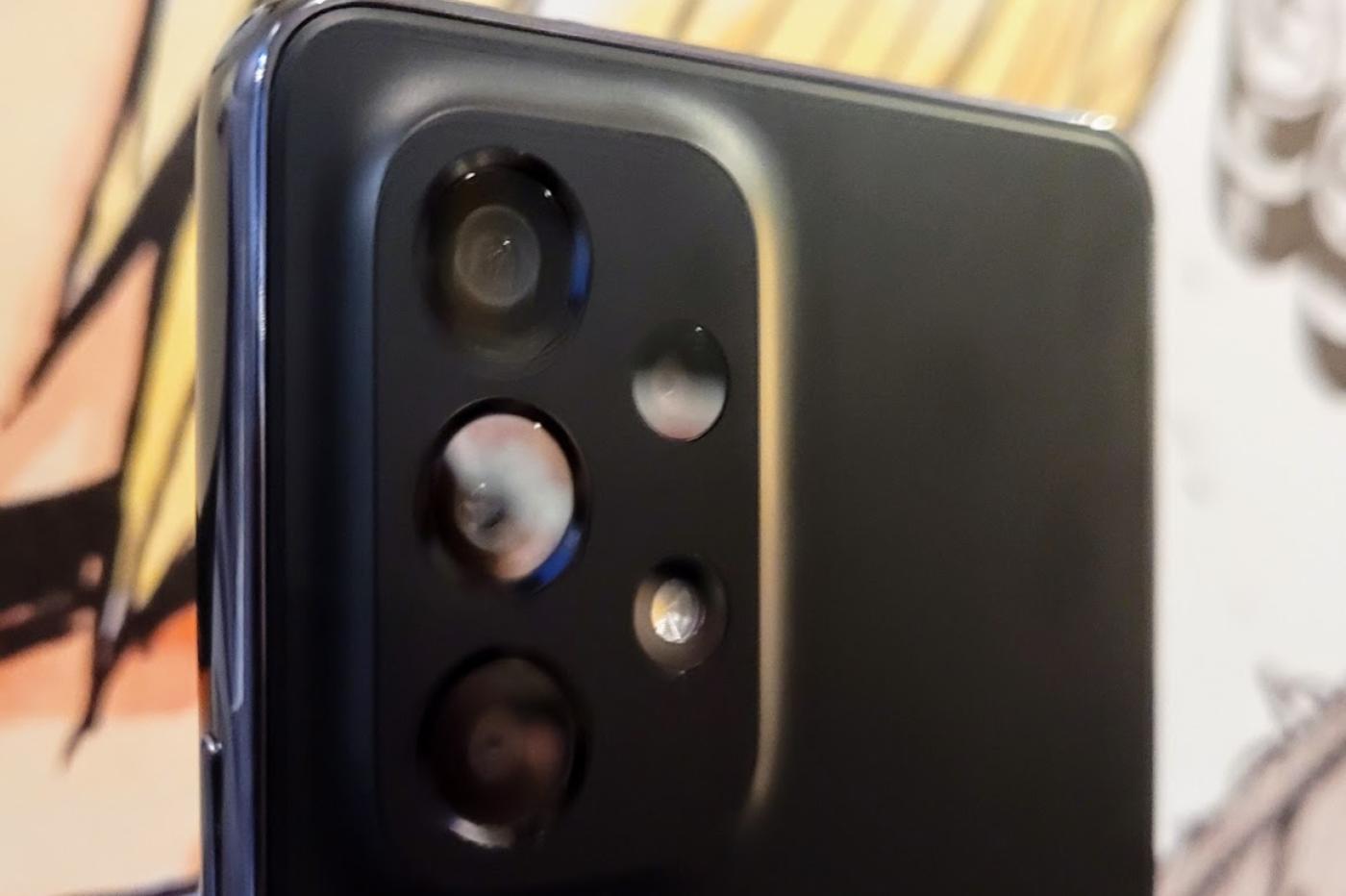 For outdoor photos in optimal light conditions, the main sensor of the Galaxy A53 fulfills its function wonderfully: from the top of its 64 Mpx, the wide-angle sensor does a very good job, both in terms of colorimetry and distortion. For more complex shots, it is supported by a 12 Mpx lens in ultra wide-angle (f / 2.2), as well as two 5 Mpx modules, intended for macro photography and portraits. At the front, the Samsung Galaxy A53 also offers a very good 32 Mpx selfie module.
With its 5 sensors, the A53 plays the number card, but also efficiency. As we have already said, the general quality of the shot is very good. Obviously, you shouldn't expect professional photos, especially with the ultra wide-angle or 10x zoom, which greatly affect image quality. However, and provided you don't ask too much of it, the result is suitable for most uses, even in low light, which is rare enough to be underlined.
Finally on the video side, the main sensor of the Galaxy A53 offers maximum quality in 4K at 30 fps. A nice image quality and effective stabilization, which will not make you the next Denis Villeneuve, but which will allow you to immortalize the first steps of the youngest, or your exploits in the evening.
Interface and connectivity
Compatible with 5G, the A53 also offers Wi-Fi 6 and Bluetooth 5.1 connectivity. In use, we still appreciate its Android 12 interface and its discreet One UI 4.1 overlay, which unlike many competitors, knows how to play to its strengths without imposing itself. In use, this is mainly reflected in the presence of efficient and ergonomic applications for certain daily tasks, such as video games, note taking or health monitoring. Coupled with the latest version of Google's mobile OS, the ergonomics are close to flawless. Regulars of the Samsung ecosystem will not be out of place, while others should quickly appreciate the change.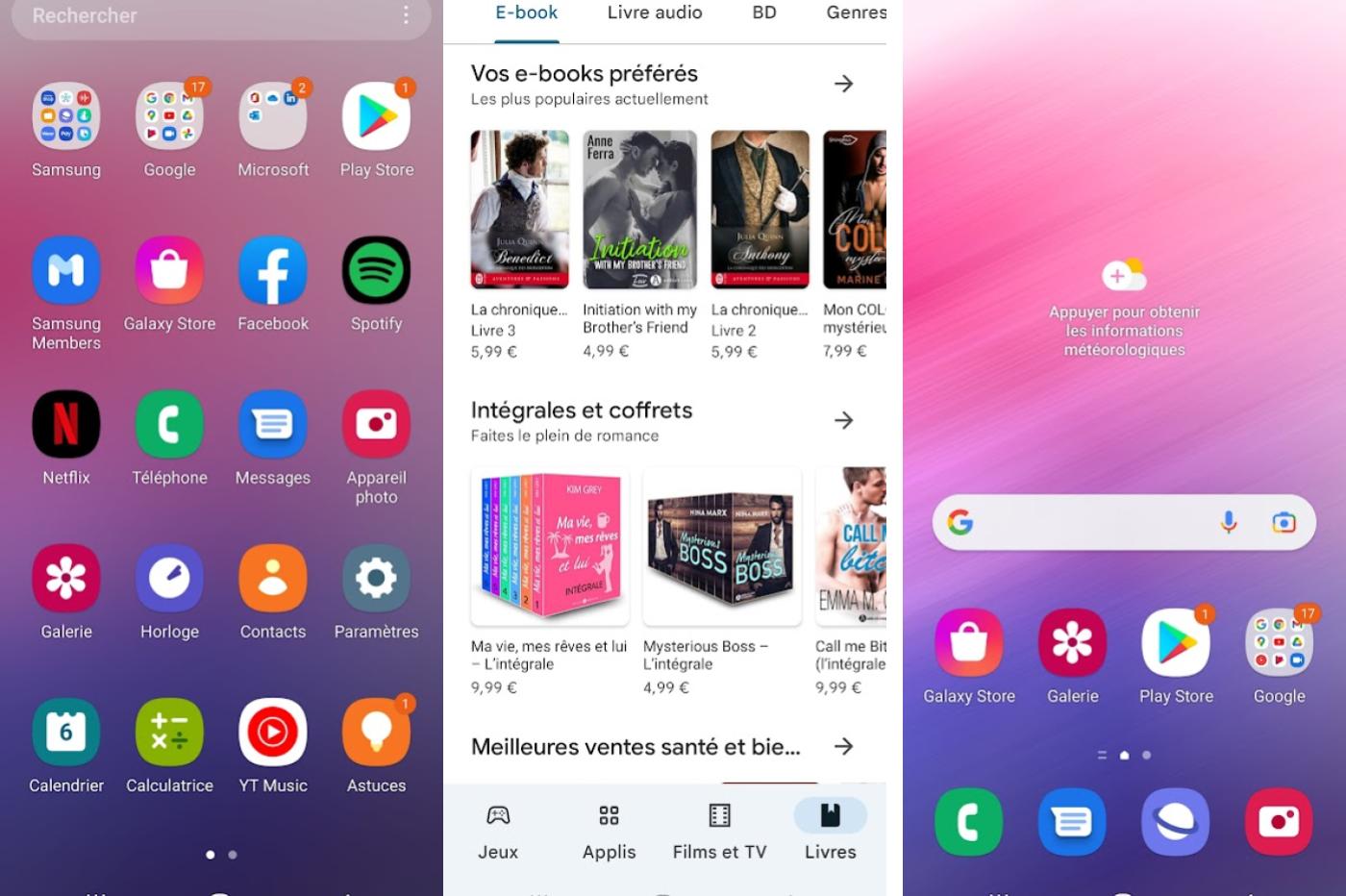 In addition to all these good points, the A range smartphone also offers a repairability index of 8.2/10, a very honorable score therefore, and – for the first time in its history – a IP67 certifiedusually reserved for the brand's high-end models.
Price and availability
Offered in four colors (black, white, blue and peach), the Samsung Galaxy A53 is available in two configurations: 8/128 GB and 8/256 GB. 5G being present by default on the smartphone, its call price is logically a little more expensive than on the previous generation. Count between 459€ and 519€ to give you the device. Marketed since April 1, 2022, the device is already available on the official website, and at most partner resellers.
Galaxy A53 5G 6+128 GB at the best price
Base price: €459
See more offers
Galaxy A53 5G 8+256 GB at the best price
Base price: €519
See more offers
Samsung Galaxy A53 5G
0.00