Launched in 2019 and available in France since 2020, Disney's video-on-demand service, soberly named Disney+, can be watched on many devices (televisions, TV boxes, smartphones, tablets, computers, etc.). Nevertheless, certain prerequisites must sometimes be met to benefit from it. Find out how to watch Disney+.
However, it is important to note that certain prerequisites must sometimes be met to take advantage of it, regardless of the device you decide to use. Find out how to watch Disney+.
Subscribe to Disney+
What are the different offers offered by Disney+ and at what price?
Unlike Netlix, for example, Disney+ offers only one and the same offer, available in monthly or annual payment. For €8.99 per month (or €89.90 per year, a 15% reduction being applied), you can enjoy a video on demand service offering these different characteristics:
Up to four devices simultaneously
Up to ten connected devices
4K UHD, Dolby Vision and Dolby Atmos compatible, IMAX Enhanced
Group streaming system
Subscribe to Disney+
Watch Disney+ on TV
When it comes to watching Disney+ on TV, there are already several options available to you. Connected TV, HDMI keys and box, internet box or even video game consoles, many possibilities are offered by the video on demand service. So let's go over what's available:
Disney+ on a smart TV
Connected televisions have been around for many years now, but beware: not all of them are compatible with the Disney+ application. On its official documentation, the video service indicates that only these televisions can allow you to enjoy it:
Android TV devices (Android 5.0 minimum)
Hisense Smart TV (VIDAA 2.5 or VIDAA 4.0 and later)
LG Smart TV (webOS 3.0 minimum)
Panasonic Smart TV (running My Home Screen OS with serial number starting with EZ, EX, FZ, FX, GZ, GX, HZ, HX, JZ or JX)
Samsung Smart TV (Tizen only and from 2016)
Disney+ on an SFR, Free, Orange, Bouygues or Canal+ box
The various operators, as well as Canal+, offer access to Disney+ directly from their box. However, as with other ways to enjoy the Disney service, check the hardware compatibility:
Orange (4K UHD TV decoder or TV4)
SFR (Connect TV and SFR Box 8)
Free (Delta, Pop, Mini 4K)
Bouygues (Bbox 4K or Bbox 4K HDR)
Canal+ (G9, G1, Cube or Cube S)
Disney+ with an HDMI key or box
Several brands offer this type of product, such as Xiaomi, Google, Amazon or Apple to name only these brands. It will be difficult to list all the dongles or all the compatible boxes as the number can be high, but here are some details that could be useful to you. Disney+ is compatible with:
Amazon Fire TV (Fire OS 5.0 or higher)
Apple TV (minimum 4th generation HD or 4K)
Android TV key/box (Android 5.0 minimum)
Disney+ on a video game console
Many of us have game consoles in our TV cabinet. For a few generations, they have even been transformed into real multimedia centers in our living rooms: Blu-ray playback, music services, YouTube, Twitch and VOD, everything goes there. Here is a list of consoles with the Disney+ application:
PlayStation 4 / Slim / Pro
playstation5
Xbox One/S/X
Xbox Series S/X
If you're wondering, know that currently no Nintendo Switch model offers a Disney + application.
Disney+ via a computer connected to a TV
We don't often think about it, but it's also quite possible to connect your computer (Windows, Chrome OS, macOS, Linux, etc.) to our television via an HDMI cable. By doing this, just launch Disney+ on the computer and enjoy it on the big TV screen. To learn more about using Disney+ on PC, go further down in this guide.
Subscribe to Disney+
Watch Disney+ on an Android smartphone or tablet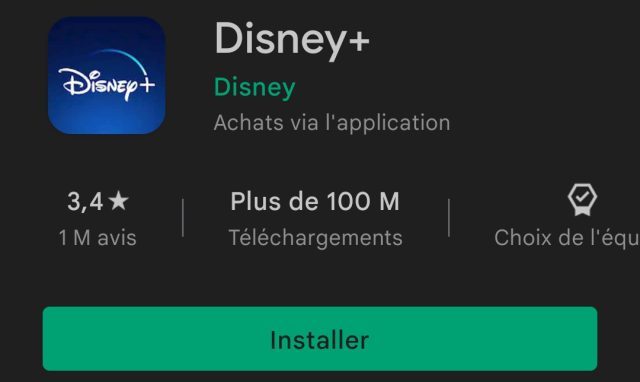 Disney+ is available on a very large number of platforms and it was almost obvious that Android smartphones and tablets were affected. An official application is available and we advise you to use only this one. It is accessible on the Play Store of your Android device, or by clicking directly on this link.
The application requires a device running Android 5.0 minimum.
Watch Disney+ on an iPhone or iPad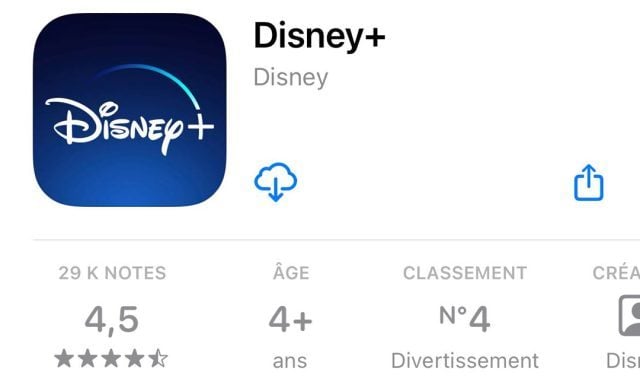 Just like Android, iOS and iPadOS are entitled to their official version of the Disney+ application. It requires an iPhone, iPad or iPod running iOS/iPadOS version 14.0 and is available directly from your device's App Store, or by clicking on this link. Here too, we advise you to only download this official application.
Watch Disney+ on Windows computer, Macbook, Chromebook, …
As a general rule, any computer connected to the internet and having a browser (Chrome, Safari, Brave, Edge, Firefox, etc.) will allow you to enjoy Disney+ without any problem. Whether it's a Mac running macOS, a computer running Windows or Linux, or a Chromebook running ChromeOS, you won't be harmed.
Disney+ on Mac (macOS)
Currently, the macOS platform (Macbook, iMac, Mac Pro, Mac Studio, etc.) does not offer an official application. It is therefore necessary to go through your favorite browser and go to the official Disney+ website.
Disney+ on Windows
Unlike macOS, Windows has its own official app on the Microsoft Store. You therefore have two solutions for watching Disney+ series and films on Windows: the browser and the application.
Disney+ on Linux
If it was not offered at the launch of the service, Linux is now fully compatible with the Disney+ video player. You just need to go to their official website through a browser. No application currently exists.
Disney+ on Chromebook (Chrome OS)
Out of habit, we might think that the weakness of Chrome OS in terms of the availability of applications could make this operating system incompatible with Disney+. Fortunately, this is not the case: it is quite possible to take advantage of the Disney service via the integrated browser (Chrome only). But that's not all, since depending on your Chromebook model, you will be able to download the official Android application.
Subscribe to Disney+