While we patiently wait for the other Magic4, the first of the range arrives. Here is our review of the Honor Magic4 Lite.
After an officialization of the range Magic4 Series during the MWC 2022 in February 2022, it is at the beginning of May that these new smartphones from Honor are in the process of arriving on French territory. If we are mainly expecting news from the pro version of the range, today it is the Honor Magic4 Lite which is arriving in the mid-range smartphone segment.
With an XL screen and a design typical of the range, we discover the directions taken by the Chinese brand since its emancipation from Huawei. We've spent the last few weeks with it and it's time to come to the verdict. Here is our test of Honor Magic4 Lite.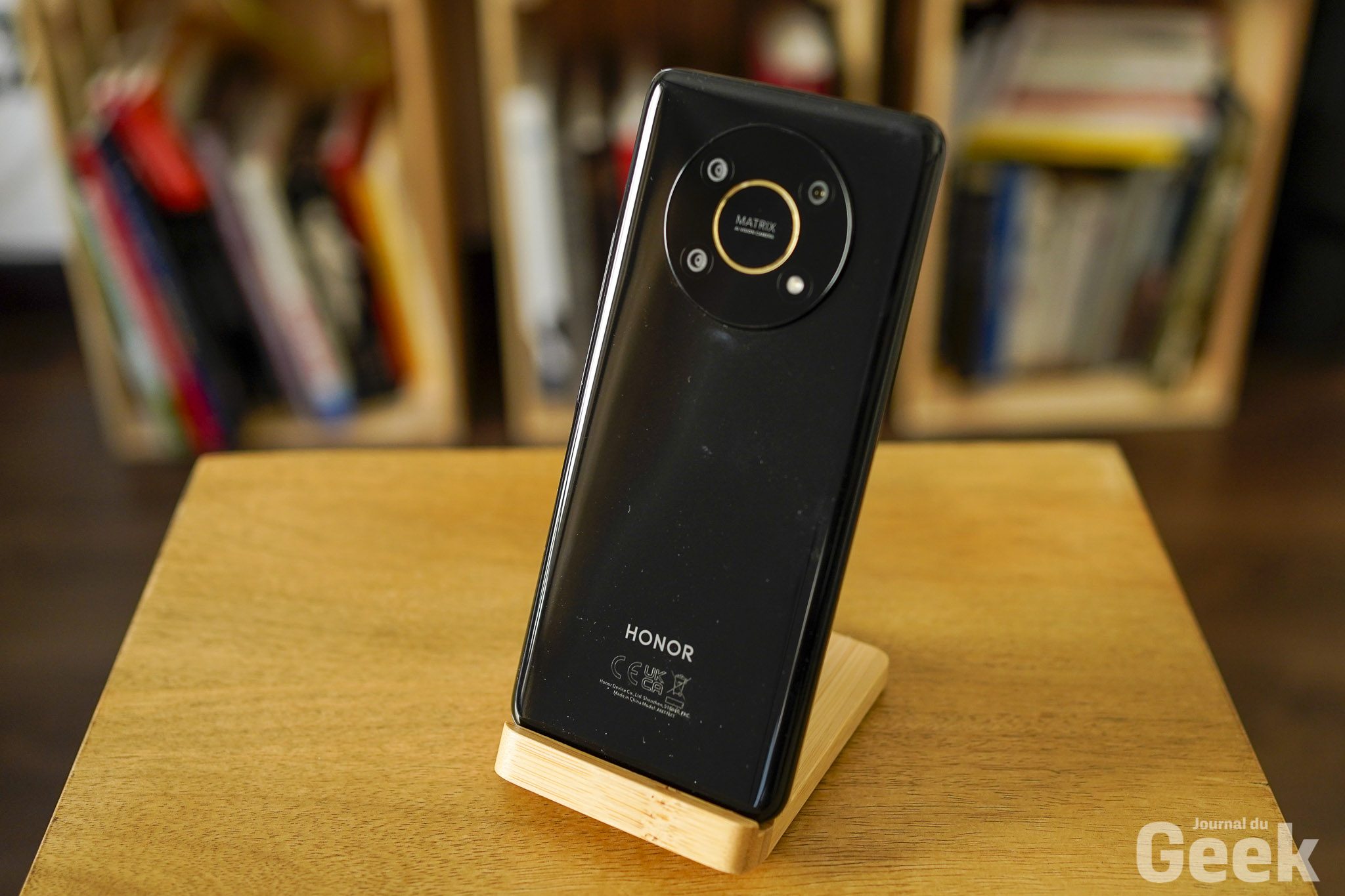 Honor Magic4 Lite Features
As a reminder of the characteristics, the new Honor Magic4 Lite offer you :
Honor Magic4 Lite
Screen
– 6.81 inch FullView IPS
– 1080×2388 definition
– 19.5:9 aspect ratio
– 94% occupancy
– 120Hz refresh rate
– Punch
Design
– Plastic outline
– Plastic back
– Physical buttons
SoCs and GPUs
-Qualcomm Snapdragon 695
Memory
– 6GB RAM + 2GB HONOR RAM Turbo
– 128GB of storage
Colors
– Midnight Black
-Titanium Silver
-Ocean Blue
Camera
– Three cameras, the main one with a 48 Megapixel sensor, macro and depth of field with a 2 Megapixel sensor
– Wide-angle lens with an aperture of F/1.8
– Macro lens with an aperture of F/2.4
– Lens for depth of field with an aperture of F/2.4

– Dual-Tone LED Flash
– Scene Recognition via Artificial Intelligence
– Night Mode
– Video recording up to 1080p/60 and 4K(2160p)/60

– 16 MP front sensor
– Wide-angle lens with an f/2.45 aperture

Audio
– Mono speaker
– No 3.5mm jack
Battery
– 4800mAh battery
– Honor SuperCharge 66W charging
Connectivity
– Lateral physical fingerprint reader
-Bluetooth 5.1
– Wi-Fi 5
– USB-C
– 2x nano-SIM
– 5G
Software
-Android 11
-Magic UI 4.2
Height and weight
– 166.07 x 75.78 x 8.05mm
– 189g
Price
349€
availability date
May 2, 2022
For the packaging itself, it's classic and unsurprisingly, we find an Honor SuperCharge 66W USB charger, a USB Type-C cable, a transparent protective shell and instructions for a first grip.
For its price, count officially 349€ for availability from May 2, 2022.
Design, Screen and Audio
It's a mid-range smartphone, and unsurprisingly, if we find the design of the Magic4 range with its huge circular photo block on the back, the finish of the smartphone offers a polycarbonate (plastic) back. The finish is good in itself, although we might have preferred a matte finish, more resistant to fingerprints but also to scratches over time. For scratches, it's just that it will show up more easily on a glossy back than on a matte back. The photo block is imposing but with a shiny back, we can use it as a mirror to take a picture with the main camera. Note that the fingerprint sensor is of the physical type and is found directly on the standby and/or power button. We really like this solution, it's simple and effective.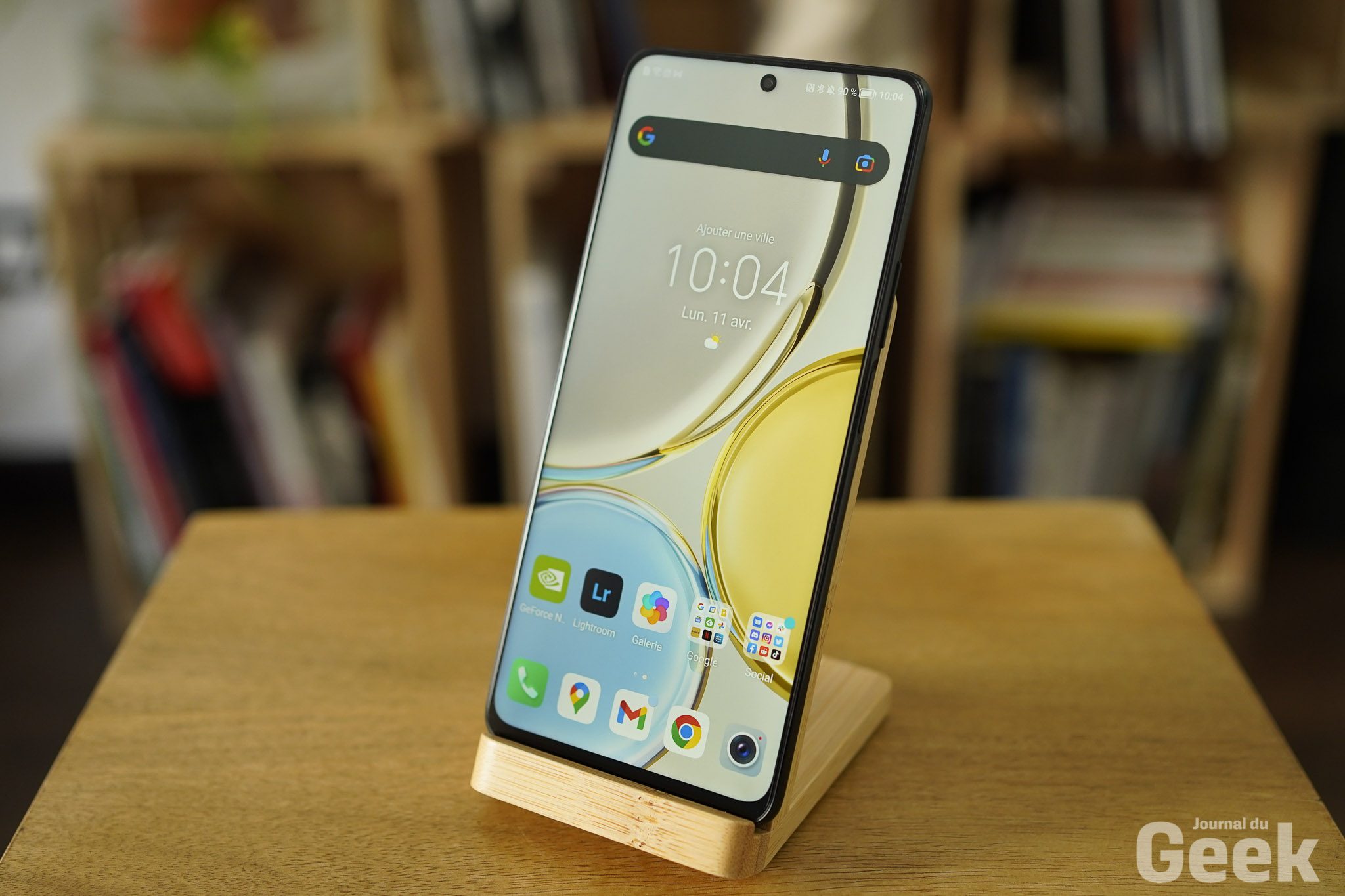 With a screen with a diagonal of 6.81 inches, we are in the presence of an XL smartphone and it feels in hand. Some will like this screen size (we do), others will find it too big. Either way, it's a choice. On the other hand, with a weight of 189g and a thickness of only 8mm, the Honor Magic4 Lite is light for its category and it was nice to have a large screen without the weight that often comes with it. The edges are rather thin for a mid-range smartphone, except at the level of the chin, but this remains reasonable and on a daily basis, we forget them in use.
Speaking of screen, there is a punch at the top center and above all, it is an LCD panel, which means that if you are not in front of the screen, the colors are a little washed out since the Viewing angles aren't the best, especially when facing an AMOLED panel. Likewise, as you might expect, the blacks aren't the deepest, but we've seen much worse. On a day-to-day basis, this did not particularly bother us. On the other hand, LCD requires, the brightness is there and above all, Honor offers a screen with a refresh rate of 120Hz, which makes the daily experience much more fluid, whether on our applications or our games.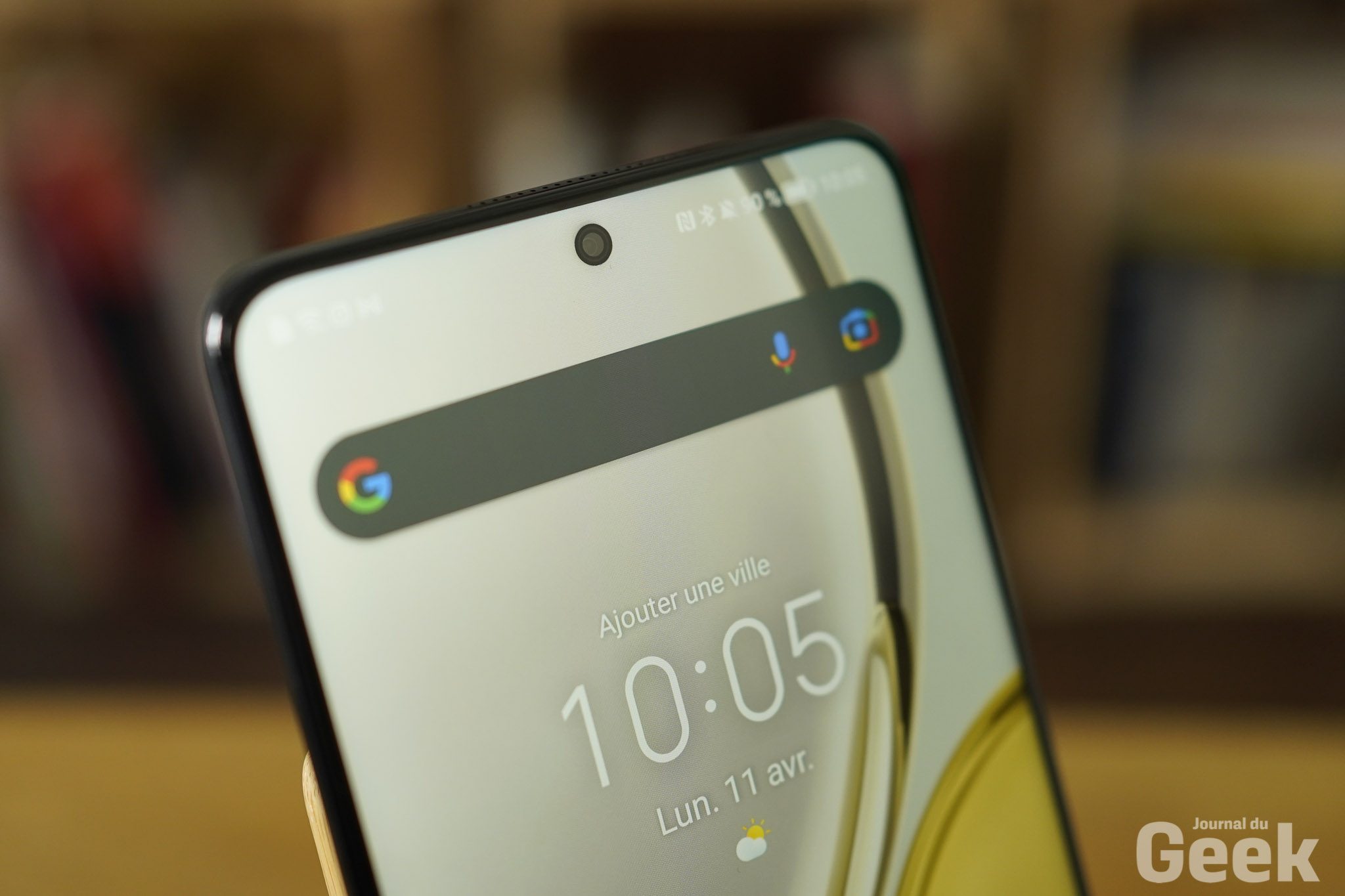 On the sound side, there is only a mono speaker and it's a shame because many competitors are starting to offer stereo speakers in this price range. Likewise, this price range had us used to the presence of a jack port, which we don't have here. Afterwards, it's not as if it was a defect since all the manufacturers are abandoning it, but it should be noted. Otherwise, the sound volume is rather well contained and does not saturate. Of course, it's still a smartphone speaker and if it's enough for short social network type content, we can only recommend an external speaker or headphones.
Android 11 for now, Performance and Autonomy
the Honor Magic4 Lite comes with Android 11 as well as an overlay Magic UI 4.2. We are in May 2022 and it's not normal to still be on Android 11. Afterwards, it's not as if Honor was not going to offer an update to Android 12 but we would clearly have liked to have it by default and not having to wait for an update with which there is no date. In any case, the Android 11 duo with Magic UI remains pleasant on a daily basis with an experience close to Android Stock. The advantage is that Honor (and Huawei before) had already integrated gestures similar to what we find on Android 12 so we quickly found our marks. On the other hand, Honor continues to offer third-party applications with which we could do without them and that is what we are doing.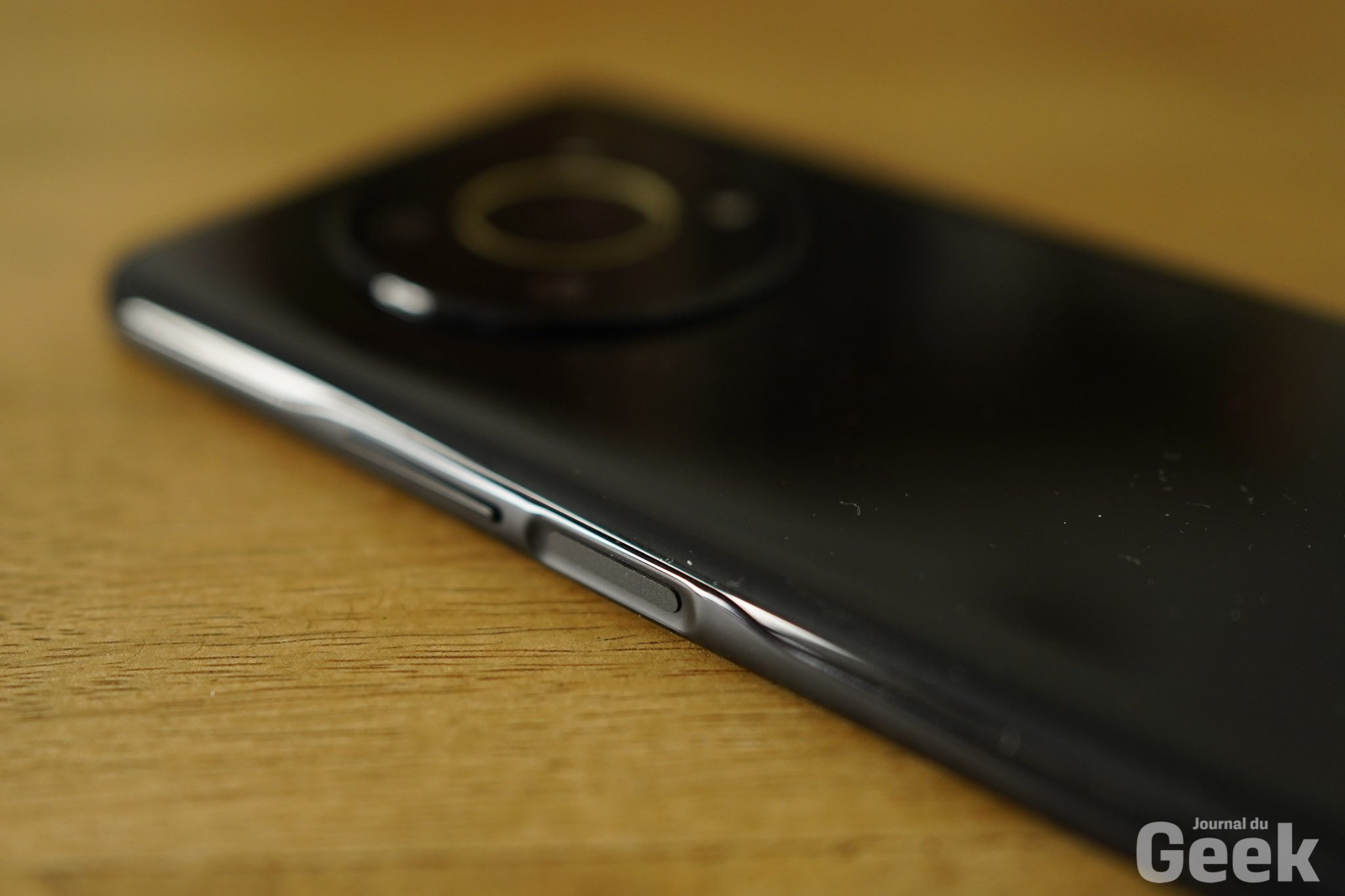 On the performance side, the Honor Magic4 Lite offers a SoC Qualcomm Snapdragon 695. It's a mid-range SOC from Qualcomm and we were pleasantly surprised by the overall performance. It's clearly not the fastest SoC but it will be enough for 99% of our daily use. On demanding applications such as games, we did not notice any particular slowdowns, even in 120Hz mode. Of course, we are talking about settings according to the SoC, we clearly did not use the highest detail mode on our test games (Wild Rift, Dead Cells, etc.). In all cases, we used the Honor Magic4 Lite with a significant number of applications and we did not feel any particular discomfort on a daily basis. The user experience remains fluid and there is clearly nothing to complain about.
And finally, as with every new smartphone, you will need a few days of use before obtaining cruising autonomy. But with a battery of 4800mAh, we have what it takes to hold a busy day very easily or two days of autonomy without forcing too much. In addition to that, Honor added fast wired charging at 66W, really practical.
Photo and Video
And it is in this area that the Honor Magic4 Lite disappoints somewhere. Indeed, while we already know that the Magic4 Pro and Magic4 Ultimate shine with a thousand lights according to the first tests in Asia, we find ourselves on the Magic4 Lite a huge photo block consisting of a main camera with a macro and a third to help with depth of field. Yes, there is no ultra wide-angle while all competitors in this price range offer at least this duo, it's a real shame.
Regarding the photos themselves, they are on the whole successful and offer enough detail but for some reason, the software part of the camera tends to overexpose the photos, which can lead to too bright photos and suddenly with a sometimes artificial rendering. So yes, you just have to re-expose as well as possible, but doing it every time you shoot is a task that we would have liked not to have to do. We hope for a firmware update that will solve this exposure problem.
In low light conditions, you will have to go through the Night mode to hope for the best possible results. Indeed, when you use the default photo mode, you end up with super smooth photos, which results in a lack of detail and sharpness. In absolute terms, on this range of smartphones, it's not shocking either.
On the video side, we note the possibility of recording videos up to 1080p, which is sufficient in itself but once again, we would have liked to go up to 4K, we are still in 2022. And suddenly, it will have to be careful since we find this tendency to over-expose, as in the photos.
More words, examples:
Photo Gallery