Apple would have a 35 W charger with two USB-C ports in its boxes. The product made a brief appearance on the manufacturer's website.
Cautious about the fast charge of the iPhone, Apple would nevertheless have ideas for charging material. The apple brand was working on a new power adapter with a power of 35 W, with two USB-C ports. A novelty for the manufacturer, which already has a 30 W USB-C charger in its catalog, without this feature of offering a dual USB-C port. This presence is interesting since it would allow, for example, to recharge an iPhone and an Apple Watch at the same time. As a reminder, the iPhone 13 Pro Max caps out at 27 W while the connected watch is content with charging at 5 W. It would even be possible to recharge a MacBook Air M1.
Far from its Chinese rivals, Apple would choose another path to compete with some of these partners for accessories. This type of block offering 35 W in total is however new and would join the MagSafe double charger. It allows you to charge an iPhone and an Apple Watch simultaneously, without offering as much versatility as a simple adapter.
A charger confirmed… by Apple
Rumors are often to be taken with a grain of salt, but the source concerning the existence of the charger could not be more reliable. Indeed, the information comes directly from the official Apple website which mentioned an "Apple 35W Dual USB-C Port Power Adapter" in a document furtively posted online. Quickly deleted, it did not escape the watchful eye of 9to5Mac who had time to take a screenshot. The first 35 W dual USB-C charger therefore seems very real, even if the Apple brand has not confirmed anything. It is not yet known when Apple plans to release this accessory or even if it will be officially available.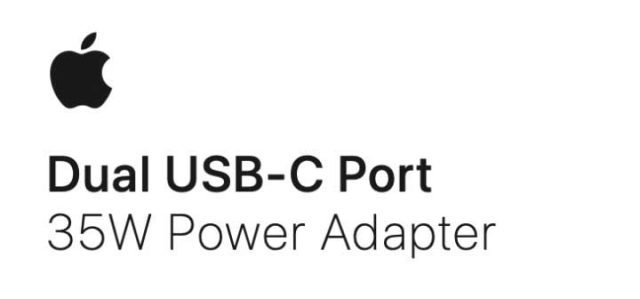 On the other hand, it seems that the brand is working on new charging solutions. Rumor has it that a new 30W adapter is in the works, as Ming-Chi Kuo claims. The analyst mentions an interest in Gallium Nitride (GaN); which would reduce the size of the magazine.
Predicted last month that a new charger of about 30W would come in 2022. Components are nearing mass production, and this year's shipment estimate could reach 2-3M units.https://t.co/Xb2keIGYSQ

— 郭明錤 (Ming-Chi Kuo) (@mingchikuo) April 9, 2022
It can operate with higher voltages, therefore reducing the number of components required. For the same size, the power is higher and the heating lower with GaN instead of silicon. This would not be new for the Apple brand, which offers a GaN charging block with its 16-inch MacBook Pro.
Apple is planning to produce between 2 and 3 million units for this year. For comparison, the manufacturer's current 30 W power adapter is sold for 55 euros.